CORE SERVICES
Transtria's 5 Core Service Areas
(mouse-over the service areas for detailed definitions)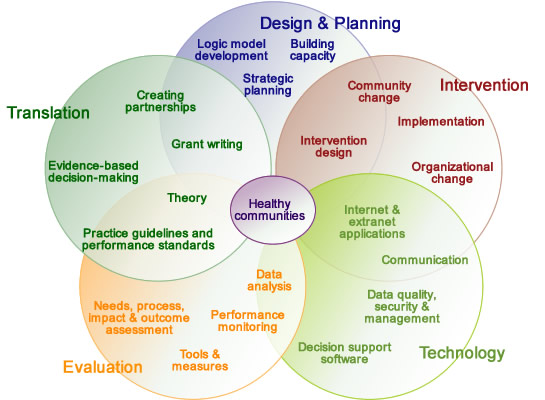 Logic model development: We create planning tools that link goals, objectives, activities, resources and evaluation.
Building capacity: We work to identify and mobilize organizational and community assets (resources, infrastructures, relationships, and operations).
Strategic planning: We engage partners in a planning process to coordinate efficient and effective activities, efforts and resource utilization.
Intervention design: We guide the design, planning, development, and selection of appropriate intervention strategies to meet partner needs.
Implementation: We provide tools and resources for ensuring that activities are accomplished as planned.
Organizational change: We support organizations that seek to change their structure, enhance their capacity, or improve their performance.
Internet & extranet applications: We develop dynamic applications for information sharing, performance monitoring and evaluation.
Communication: We use innovative communication strategies to support information exchange relevant to a wide variety of audiences.
Data quality, security & management: We follow established guidelines for data operations to protect the integrity of information transfer and storage.
Decision support systems: We tailor computerized information systems to enhance organizational or community decision-making activities.
Data analysis: We design and conduct quantitative and qualitative data analysis so that partners can share the impact of their efforts with others.
Performance monitoring: We review our partners' processes and activities and create systems to track performance goals and objectives.
Needs, process, impact & outcome assessment: We evaluate organizational or community needs, planning efforts and interventions using innovative methods.
Practice guidelines & performance standards: We work with partners to identify standards for practice based on scientific evidence and practical experience.
Theory: We apply social science theories to enhance change efforts for individuals, groups, organizations or communities.
Evidence-based decision-making: We promote the use of research- and practice-based evidence to guide the planning and prioritizing activities of our partners.
Creating partnerships: We encourage collaborative approaches that involve multidisciplinary partners and recognize their unique contributions.
Grant writing: We provide guidance and support for partners seeking funding from government institutions and foundations.